Time Required: 5 (30 min. total)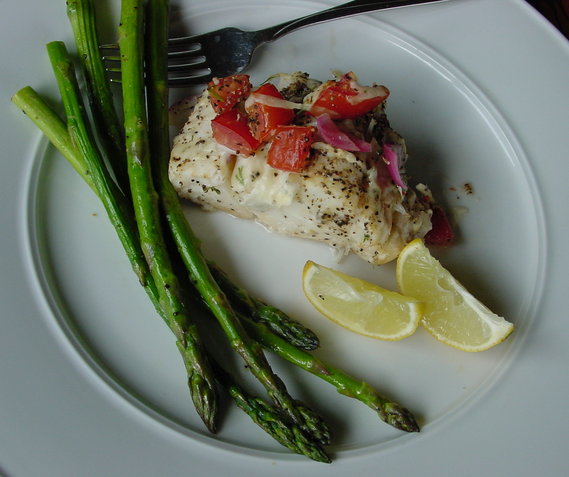 Pairs with COD FISH TACOS
Lemon, butter, panko, onions and tomatoes add great flavor to these fillets. In all honesty, the fish tacos I made with leftovers were a hit, so I couldn't help but do another, very different fish tacos pair-up. If you have some extra time today, make the artichoke heart dip for the tacos (first 6 ingredients from that recipe) to use with tonight's SERVING SUGGESTION at bottom. You'll be even farther ahead with the tacos for tomorrow!
Ingredients:
42 oz(s) cod fillets -- cut each fillet 6 oz.
1 tbsp lemon -- cut in half
2 tbsp butter -- melted
1/2 cup(s) panko -- or more
2 tbsp red onion -- minced
1 1/2 roma tomato(es) -- chopped fine
1 lb(s) asparagus


Directions
Prep Work: Cut red onion and tomato.

1. Preheat oven to 400 degrees. Spread a little olive oil on bottom of a baking pan. Place fillets in pan, lightly salt and pepper, squeeze lemon juice all over, drizzle with melted butter and sprinkle panko (small breadcrumbs).

2. Cut onion and tomato, then distribute evenly over tops of fillets.

3. Bake for 25 min. or until fish begins to flake when you push it gently with a fork. After 15 min. add asparagus to pan, sprinkle lightly with olive oil and lemon zest, then return to oven for the last 10 min. of baking.

4. Begin checking fish at 20 min. because it can get over cooked quickly. It will cook a little more once you take it out so keep that in mind when determining "doness". Set aside 3 fillets for tacos tomorrow.

SERVING SUGGESTION: Serve with dip from Cod Fish Tacos (first 6 ingredients) or Artichoke Heart Dip(same thing) accompanied by chunks of bread, toasted pita bread pieces, corn chips or cut vegetables.

PINEAPPLE PARFAIT: A great way to use the rest of the cottage cheese (from the artichoke dip) and make a delicious dessert in minutes.

OTL 2011