Time Required: 15 (1:15 total)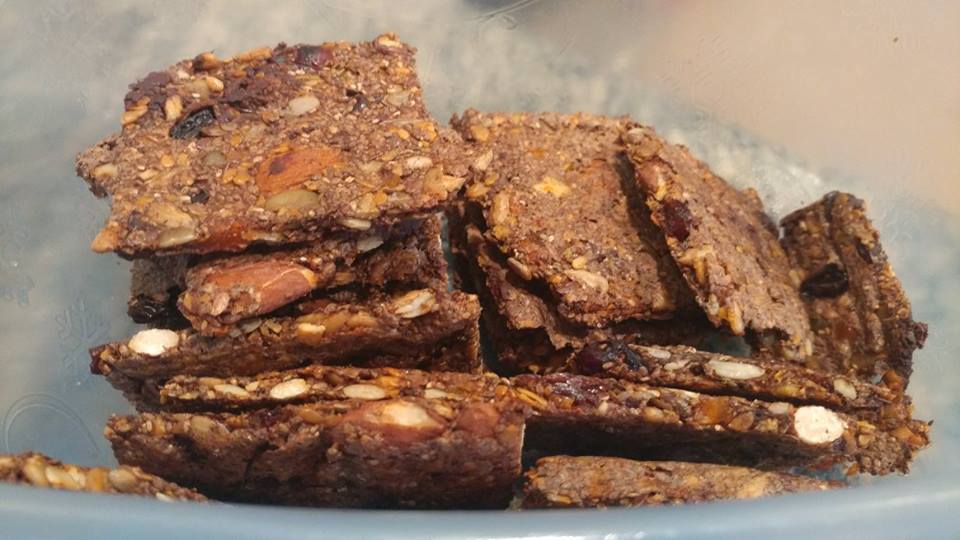 Grain free and vegan dieters rejoice! Here is a recipe for crisp, delicious crackers using a base mix of only flax and chia seeds with the wonderful addition of other favorite seeds, nuts or dried fruits.
Ingredients:
1/2 cup(s) chia seeds
1/2` cup(s) flax seed -- ground to meal
1 cup(s) kombucha -- or any tea
1/2 cup(s) pumpkin seeds -- roasted tastes great!
1/2 cup(s) sunflower seeds -- roasted also great!
1 cup(s) dried fruit -- raisins, cranberries, apricot, cherry, etc.
2 tsp stevia powder -- or to taste
1 tsp salt
3/4 cup(s) almonds -- or other nut


Directions
1. Preheat oven to 350 degrees. Place chia and ground flax seeds with kombucha in a medium to large bowl, then set aside for 10 minutes to thicken.

2. In a food processor or blender, process pumpkin seeds until they are in small pieces. Put in bowl and add whole sunflower seeds, dried fruit, stevia, salt, cinnamon and vanilla.

3. In food processor, blender, or with knife, cut almonds minimally so that most or some are in half. Add to seeds. Add all to flax/chia seed mixture.

4. Dump mixture on a parchment paper covered baking sheet. Place another piece of parchment paper over top and press mixture with hands into a flat rectangle approximately 1/4" thick. Remove top parchment paper and bake mixture in pan for 30 minutes.

5. Remove tray from oven. Place another tray on top and using baking mitts to hold both trays together, flip the hot tray upside down. Now the parchment is on top! Peel off parchment and cut into squares with a pizza cutter or sharp knife. Place crackers back in oven for another 20-30 minutes.

Extra Flavor: Add favorite spices to taste like nutmeg, allspice, cayenne, etc. I ALWAYS do.