Time Required: 25 (25 min. total)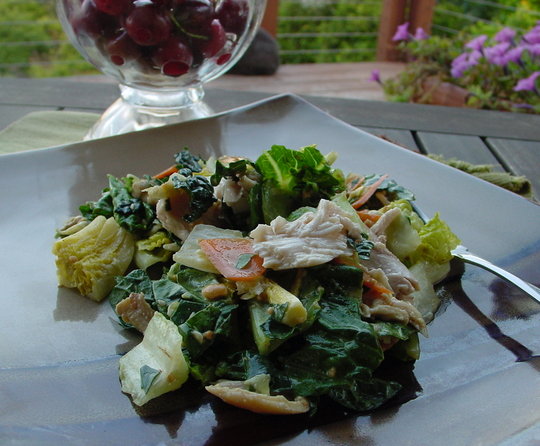 This delicious recipe will take only 25 minutes or so to prepare if you have cooked chicken ready. An easy way to do that is in your crock pot the night before. (See directions at the end.) Another option is to buy a precooked rotiserrie chicken if they are available at your local grocery store.
Ingredients:
1/4 cup(s) olive oil
1 tbsp lime juice -- or replace half w/ apple cider vinegar
1/4 cup(s) soy sauce
2 tsp fresh ginger -- minced
1/4 cup(s) peanut butter -- crunchy
2 cup(s) kale -- ribbed and cut thin strips
2 cup(s) shredded cabbage
5 cup(s) romaine lettuce -- chopped
2 cup(s) cooked chicken -- shredded or chopped
2 green onion -- chopped
1 -- carrots -- shredded
2 tbsp sesame seeds -- roasted on stove top


Directions
Prep Work: Roast sesame seeds. ( See step #4 ) Cook chicken if needed. Shred chicken. Chop lettuce, onions and cabbage. Shred carrots.

1. Combine olive oil, lime juice, soy sauce, ginger and peanut butter in container or jar with lid on and shake until combined. Add 2 tsp. of brown sugar or honey (yield of 4) to give a slight sweetness if desired; just taste first and decide.

2. Place kale and cabbage in bottom of salad bowl and toss with some of the salad dressing. Set aside to soften while preparing salad.

3. Prepare lettuce, chicken, onion and carrots; pile all on top of kale in bowl.

4. Roast sesame seeds and add to salad. Add dressing to taste and toss all right before serving. Also good garnished with crumbled corn chips or Chinese noodles.


Oven Roasting method: Preheat oven to 350 degrees, place dried chicken on greased roasting pan and roast 20 min. per pound plus an additional 15 min.; or until internal temperature is 160 degrees. Rest 10 min. before cutting. For extra flavor and moisture brine first: Empty cavity place chicken in large soup or stock pot. Dissolve 1/3 c. salt in 1 gallon water, cover chicken with water and refrigerate for at least 1 hour or overnight.

Slow Cooker Chicken: Simply place any "bone in" chicken pieces into the slow cooker, season lightly with salt and pepper, then add 2 " water or wine or a combination. Set on low for 8 hours. Watch the video to see it being done!