Crispy Fish & Zucchini Chips
Time Required: 20 (45 total)
If you want to get two dinners out of this recipe, bake extra fish and use leftovers within a few days for fish tacos. (recipe at end) Zucchini and the taco cabbage provide more fiber than most of the vegetables we usually eat. You can use my recipe at the end to make your own tartar sauce if you want, and a different firm, white fish fillet can substitute for cod. Don't forget to watch the video!
Ingredients:
1 cup(s) panko -- fine Japanese breadcrumbs
1/2 tsp paprika
1 tsp onion powder
1 garlic clove(s) -- crushed
1 egg(s)
4 cod fillets -- 6 oz. each
1 tsp pepper
1/2 tsp sea salt
4 whole zucchini -- sliced at diagonal slant, 1/4" thick
4 potato(es) -- optional
1 lemon -- cut into wedges
1/3 cup(s) tartar sauce


Directions
Prep Work: Mix panko through garlic cloves in a ziplock bag. Chop zucchini. Cut potatoes if serving. Make home made tartar sauce if desired with recipe at end.

1. Preheat broiler. Grease broiler pan and a baking sheet with olive oil.

2. Beat egg in a shallow dish with a fork until blended. Combine panko and next 3 ingredients in a seperate dish.

3. Salt and pepper fillets. Dredge fillets through egg and then panko mixtures. Place on greased broiler pan.

4. Toss zucchini pieces in 1-2 tsps. olive oil until lightly covered all over. Sprinkle lightly with 1/2 tsp each salt and pepper (for 4 servings) and any remaining panko crumbs. Spread zucchini on the prepared baking sheet. Do the same for potatoes if serving.

5. Place both trays under broiler for 4 minutes. Then turn over fish and stir zucchini; broil 4 minutes more. Remove fish when it flakes easily with a fork.

6. Put zucchini on top rack with low broil and check every few minutes, flipping when browned. Serve all with dipping sauce and lemon wedges.

HOME MADE DIPPING SAUCE: Combine 1/3 c. mayonnaise, 1 Tbsp. relish, 1-2 tsp. lemon juice, and 1/2 tsp. dill in a small bowl.

MAKE FISH TACOS: Shred some cabbage and sprinkle with apple cider vinegar and light salt. Cut an avocado. Warm corn tortillas in a little oil in skillet and fold in half. Load up taco shells and top with salsa and any leftover dipping sauce from above recipe, or make some more.

Fiber Content Chart: http://www.wehealny.org/healthinfo/dietaryfiber/fibercontentchart.html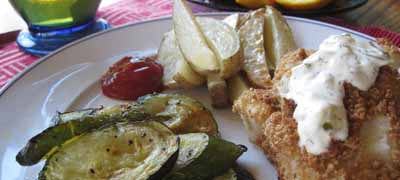 Comments:
Where do you use the wild rice mix, and how do you do a diagonal slant? I think this is a typo?
Hi Joanne,
Yes it is actually "whole zucchini" instead of wild rice mix! That should be easier to cut on a diagonal. Watch the video and you will see how I did it!
By Joanne Gamble on 2011 05 17
---
Add a Comment