Best Vegetable Bean Soup (with optional dumplings)
Time Required: 25 (45 min. total)
All of the traditional vegetables come together to make a quintessential vegetable bean soup. Little parsley or cilantro dumplings give it a unique and purely optional twist. Both beans, vegetables and whole grain flour dumplings (if you add them) are great sources of dietary fiber, and the beans listed can be easily exchanged for what you have on hand or prefer more.
Ingredients:
6 carrots -- scrubbed and chopped into 1/2" rounds
4 stalks celery -- cut horizontally and then 1/2" thick chunks
1 onion -- diced
2 garlic clove(s) -- crushed
7 cup(s) broth -- any will do
28 oz(s) navy beans -- or great northern, rinsed
14 oz(s) kidney beans -- rinsed
2 -- tomato(es) -- 1/2" chunks or smaller
6 cup(s) mustard greens -- slice and chop fine
1 tbsp sugar
1/2 tsp pepper
3 tbsp parsley -- divided


Directions
Prep Work: Chop carrots, celery and onion; store together. Chop tomatoes and greens; store together. Soak and cook beans the day before if desired.

1. Chop all vegetables. Heat frying oil in large soup pot and saute carrots, celery and onion over medium heat for 5 min.

2. Add broth, rinsed beans, tomatoes, mustard greens, sugar, pepper and 1/2 of the parsley. Bring to a boil, then take off lid and reduce heat to simmer for approx. 30 min.

3. OPTIONAL: To add dumplings for yield of 6, combine 1 c. flour, 1/2 tsp baking powder, 1/2 tsp. salt, and 1/2 c. milk. Stir milk into dry ingredients just until combined, then add remaining 2 Tbsp. of chopped parsley (or substitute with cilantro). Drop by rounded teaspoons into simmering soup during the last 10 min. and top with lid while simmering.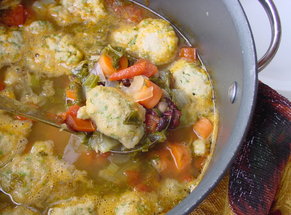 Comments:
The girls love this one.
From Molly: I'm so glad to hear that!
By Jomo on 2011 05 17
---
Add a Comment