Bob's Bran Apple Muffins
Time Required: 15 (30 min. total)
Whole wheat flour, germ and bran make the fiber count of these little muffins very high, and if you choose not to peel the apples it will be even higher. Both olive oil and walnuts provide heart healthy monounsaturated fat instead of saturated, hydrogenated, or more omega 6 polyunsaturated. It's perfect with butter and honey, a cup of sweetened yogurt and fruit for breakfast, or with jelly as an afternoon snack for the kids. Make extra to freeze to save yourself time another day.
Ingredients:
1/2 cup(s) olive oil
5 tbsp butter -- softened
1/2 cup(s) molasses
1/2 cup(s) brown sugar -- or sucanat
2 tsp vanilla extract
3 egg(s) -- slightly beaten
2 cup(s) buttermilk -- or 1c. milk w/ 2 tsp. lemon juice
1 cup(s) wheat germ
1 cup(s) wheat bran
2 1/2 cup(s) whole wheat pastry flour
2 tsp baking soda
1 tbsp baking powder
1/4 tsp salt
1 tbsp cinnamon
2 apple(s) -- diced 1/2" pieces, peeling optional
1/2 cup(s) walnuts -- chopped coarsely or fine


Directions
1. Preheat oven to 400 degrees. Grease two 12 cup muffin pans.

2. In a mixing bowl combine the oil, butter, molasses, sugar, vanilla, eggs, buttermilk, wheat germ and wheat bran.

3. In a separate bowl combine the flour, baking soda and powder, salt and cinnamon. Set aside.

4. Peel and cut apples, then add to wet ingredients along with walnuts. Sprinkle dry ingredients over top and mix just until combined.

5. Can be covered and kept in refrigerator overnight if desired. Otherwise, fill 20 of the muffin cups and bake for 15 min., or until toothpick comes out clean.

(adapted from Bob's Red Mill "Favorite Bran Muffins w/ Apples and Walnuts")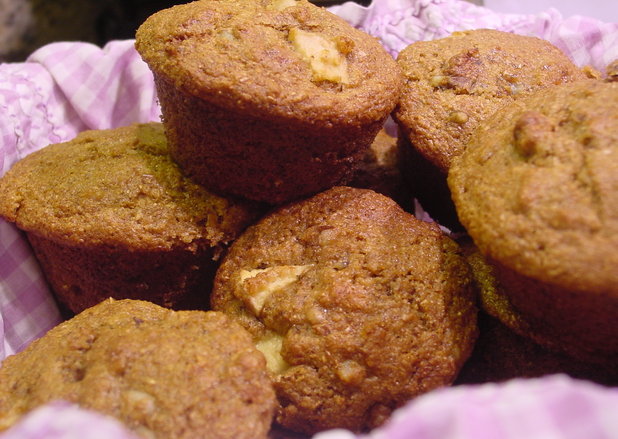 Comments:
substitute coconut oil for olive oil
By JoAnn Austin on 2011 07 11
---
That's a good idea. I wish it didn't cost so much though. Do you use it often?
By molly on 2011 07 12
---
I use it wherever i can and find that it improves the flavor andnutrition. I buy it five gallons at a time from tropical traditions. It is a big investment up front but is about one third the cost of a store.
By JoAnn Austin on 2011 07 12
---
Have you tried Ramona Family Naturals? They make deliveries in Poway and sell organic items in bulk, like flour! That would cut the cost of shipping!
By molly on 2011 07 14
---
Add a Comment