Burrito Chili
Time Required: 20 ( total)
Ever had one of those tasty burritos with meat, vegetables, rice, and corn? Well, that great flavor combination makes a nice chili too. It can also double for a vegetarian meal by simply omitting the ground sirloin. It could also be replaced by any leftover meat or fish that you have in the refrigerator. Take advantage of the flexibility this recipe provides and make it your way.
Ingredients:
1 green bell pepper -- diced
1/2 cup(s) onion -- diced
1 lb(s) ground sirloin -- lb.
2 garlic clove(s) -- crushed
1 1/2 tsp cumin
1 tbsp taco seasoning
30 oz(s) black beans -- drained and rinsed
1/2 cup(s) salsa
3/4 cup(s) corn -- fresh or frozen
1 bunch spinach
1 1/2 cup(s) brown rice -- cooked
1/2 cup(s) sour cream -- optional topping


Directions
Do Ahead: Chop onions and bell pepper; store together. Chop spinach. Peel garlic cloves. Cook rice.
.
1. In a large skillet heat 2 Tbsp. grapeseed, coconut, or olive oil on medium high heat and sauté onions, bell pepper, and meat until onions are translucent.

2. Add all other ingredients. Lower heat to simmer and cover with a lid. Cook for another 10-15 minutes, stirring at least twice.

3. Serve chili over rice with dollops of sour cream on top if desired.

OTL 2010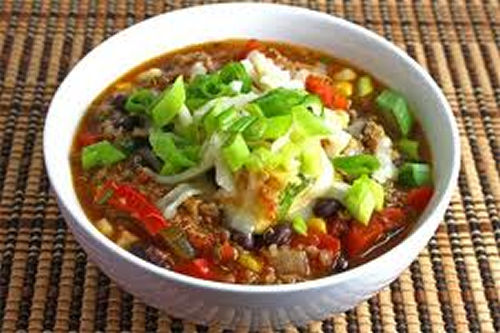 Comments:
My family loved this and it was easy to make.
By pandyjohnson on 2011 03 04
---
Add a Comment