Chocolate Breakfast Bread w/ Juicing Fiber
Time Required: 25 (1:20 total)
I love this bread for five good reasons: 1) It tastes great and freezes well. 2) It uses the fiber left over from juicing vegetables. 3) I can eat it for breakfast really quickly and it keeps me full. 4) It is sweetened with honey, moist and yummy. 5) It's chocolate. If you try it maybe you will have even another reason! Try a slight variation as Vitality Brownies here.
Ingredients:
1 cup(s) almonds -- or dates for more sweetness instead
1/2 cup(s) flax seed -- or sunflower seeds
3 cup(s) vegetable juicing fiber
4 egg(s)
1/3 cup(s) olive oil
1 cup(s) applesauce -- or replace half with mashed banana
3/4 cup(s) honey
1 1/2 cup(s) gluten free baking flour mix -- or whole wheat pastry flour
1 tbsp cinnamon -- or replace some with allspice
2 tsp baking soda
3/4 cup(s) cocoa powder
1/2 cup(s) chocolate chips


Directions
1. Preheat oven to 350 degrees then grease and flour two bread pans.

2. Blend almonds and flax with blender into meal and dump into mixing bowl. Blend juicing fiber and eggs in blender until smooth and scrape into mixing bowl with nut meal.

3. Add olive oil, applesauce, honey and eggs to mixing bowl and combine all.

4. Sprinkle dry ingredients into mixing bowl; flour, cinnamon, baking soda and cocoa powder. Blend just until combined and then add chocolate chips.

5. Pour into prepared pans. Sprinkle top lightly with sugar or more chocolate chips for a sweeter bread, then bake for 50-55 min. Toothpick should come out clean and edges of bread just beginning to separate from edge of pan. Cool completely before removing from pan. Can be wrapped in cellophane and then into a large ziplock for freezing.

OTL 2012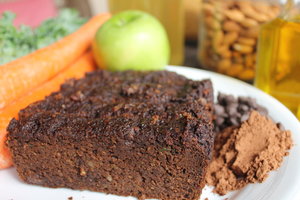 Comments:
You recommend the Breville juicer? I'm looking into it.
By Charleen on 2013 01 21
---
Add a Comment