Coffee Molasses Muffins
Time Required: 15 (30 min. total)
Yes you read it right; coffee right in the little muffin. You don't have to like coffee to like its rich taste in this quick breakfast on the go. Your body will be much happier and nice to you if you eat nutritious ingredients like wheat bran and molasses in the morning.
Ingredients:
2 egg(s)
1/2 cup(s) milk -- add 1 tsp. lemon juice for buttermilk
1/2 cup(s) honey
1 tbsp ground coffee beans -- one more for stronger flavor
1/2 cup(s) molasses -- blackstrap is best
1/2 cup(s) applesauce
1 1/2 cup(s) whole wheat pastry flour
1 cup(s) wheat bran -- or wheat germ
2 tsp baking powder
1/2 tsp salt
1/2 cup(s) raisins -- or part chopped walnuts


Directions
1. Preheat oven to 375 degrees. Grease 12 cup muffin pan.

2. Combine eggs, milk, honey, molasses, ground coffee, and applesauce until thoroughly mixed.

3. Sprinkle flour, wheat germ, baking powder, salt, and raisins over top and mix just until combined.

4. Pour into prepared cups until just even with top. Bake 18 min. or until toothpick inserted comes out clean.

5. Let muffins cool for 5 min., then remove from pan by loosening the edges first with a butter knife.

Serving Suggestions: Great with cheddar cheese, applesauce, jelly or real butter as toppings.

adapted from "The Great Coffee Book" cookbook

"Blackstrap molasses is an excellent source of manganese and copper. It is a very good source of iron, calcium, potassium and magnesium. In addition, blackstrap molasses is a good source of vitamin B6 and selenium."
http://www.whfoods.com/genpage.php?tname=foodspice&dbid=118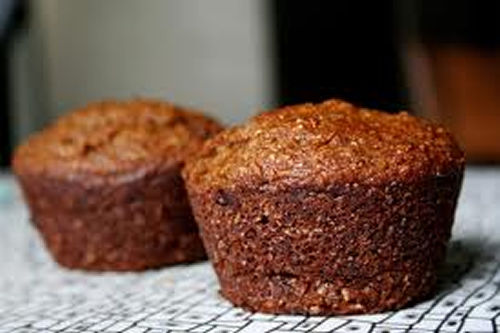 Comments:
I don't drink coffee at all. Does this taste like coffee just a little?
By Theresa Edmonds on 2010 12 27
---
Well that is hard to say. Do you like the smell of coffee? I don't drink it either, but I like the smell, and I really like these!
By molly on 2011 01 05
---
Add a Comment