Feta Chicken Pasta
Time Required: 30 (30 min. total)
One of our taste testers shared leftovers with a friend at school and came home asking for the recipe to bring back. That should tell you something about how good it is. If you're getting used to whole wheat noodles you might consider using half with half regular to adjust slowly. Get your blender out to whip up the feta cheese sauce, and consider making Jasmin Ginger Tea this week to use up some of the whipping cream you will have left over.
Ingredients:
2 cup(s) penne pasta -- all whole wheat or half
1/4 cup(s) feta cheese
3 tbsp lemon juice
1 tsp oregano
1 bunch baby spinach leaves -- 2 if small; 1" pieces
1/4 cup(s) whipping cream
1 pint(s) cherry tomato(es) -- halved
2 cup(s) shredded chicken -- or meat from one rotisserie
1/2 cup(s) shredded parmesan -- optional topping


Directions
Prep Work: Cook chicken if needed. Shred chicken. Cook pasta.

1. Heat water plus 1 Tbsp. salt to boiling in a large cooking pot for the pasta. Cook pasta according to package directions until al dente (slightly firm still).

2. In a blender puree feta, cream, lemon juice, oregano, 1/2 tsp salt and 1/4 tsp. pepper (for yield of 4).

3. Drain and return noodles to cooking pot.

4. Add all other ingredients to noodles; feta cheese sauce, chicken, spinach and tomatoes. Heat for approx. 4-5 min. on low until spinach wilts, stirring and adding 1 Tbsp. of water as needed.

5. Salt and pepper to taste and shredded parmesan cheese before serving.

COOKED CHICKEN: I cooked chicken for school lunches and made extras for this recipe. Place chicken on the bone in crock pot and sprinkle with salt, pepper, oregano, and whatever other spices you like. Add 1-2 cups of water to the bottom of the crock pot and cook on low for

*Use only half whole grain pasta if getting used to it.

(adapted from Cook's Country "30 Minute Meals" 2010)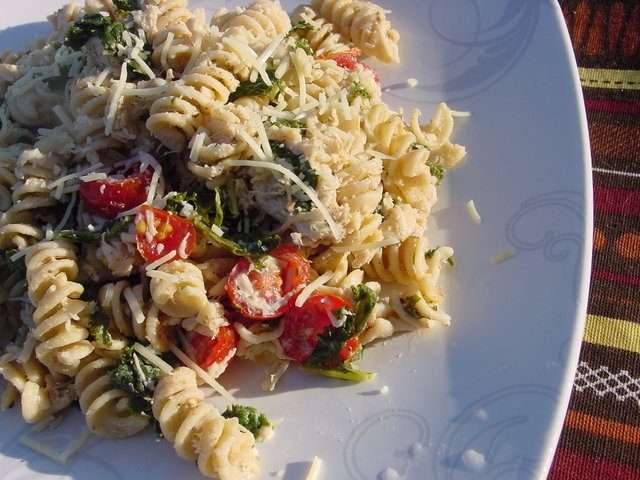 Comments:
Directions don't say to adjust the amount of salt and pepper in the puree when you change the servings, should you?
By Sabrina on 2010 10 14
---
DELICIOUS!
By Sabrina on 2010 10 14
---
Thanks for pointing that out! You will have to adjust that yourself… start with a little of course and add slowly until perfect.
By molly on 2010 10 14
---
Add a Comment