Irish White Bean and Cabbage Soup
Time Required: 15 (1:15 total)
I love this kind of dinner because the prep is fast, it's delicious, I can run get other things done while it cooks, and its full of healthy vegetables. Not sure if the Irish really liked white beans, but they are tops in the bean world as far as minerals, vitamins and fiber. I was pleased to use untraditional sweet potatoes instead of brown or gold because they were organic and on sale. There is a lot of chopping to do but I made a video for you to follow, and it really is all done in less than 15 minutes and you are on your way! Pair this up with your favorite artisan bread and organic butter.
Ingredients:
1 onion -- chopped small
3 stalks celery
3 garlic clove(s) -- crushed
1/2 cabbage -- chopped 1/2" by 1 1/2"
4 carrots -- chopped 1/2" pieces
1 1/2 lb(s) potato(es) -- sweet, yukon, brown
1/2 cup(s) pearled barley
fresh rosemary -- 4" piece attached, or 1 tsp. dry
2 tsp thyme
8 cup(s) broth
3 cup(s) great northern beans (white) -- 3 c.= 28 oz.
2 fresh tomato(es) -- diced
1/3 parsley -- chopped fine


Directions
Prep Work: Chop onion, celery, cabbage, carrots and potatoes; store together. Mix beans, chopped tomatoes and chopped parsley together in a separate container or ziplock.

STOVETOP
1. Place onion, celery, garlic, cabbage, carrots, potatoes, barley, rosemary, thyme and broth together in soup pot. Cover and simmer on low 40 min.

2. Add beans, tomatoes and parsley to pot. Simmer uncovered for another 15 min. Salt and pepper to taste starting with 1 tsp. of pepper and 1 1/2 tsp .of salt for a yield of 6.

CROCKPOT
Add all ingredients from step #1 above to crock pot. Cook on low for 7 hours. Add ingredients from step #2 above and cook for 1 more hour. Salt and pepper to taste starting with 1 tsp. of pepper and 1 1/2 tsp. of salt for a yield of 6.


(adapted from blog.fatfreevegan.com)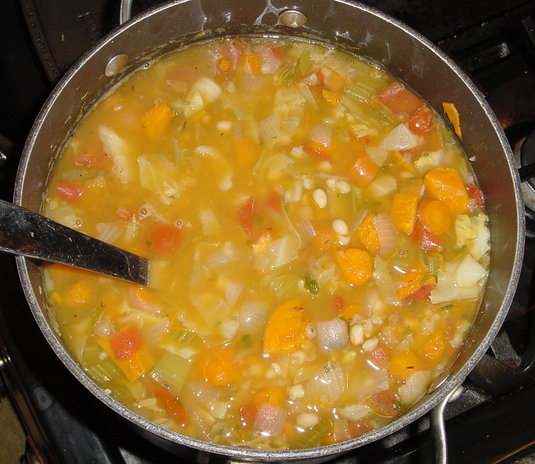 Comments:
Just made this again tonight. This is one of my favorites!
By Jomo on 2011 11 17
---
I'm gad! I'll have to make it again soon because it's been awhile for me.
By molly on 2011 11 18
---
Add a Comment