Julia's Favorite Chili
Time Required: 20 (40 min. total)
To save time, make extra rice for another entree this week and save 3/4 c. for this chili. Also, it only takes a few minutes to soak the beans the night before and it increases their digestability dramatically. Beans and whole grain rice provide all 8 essential amino acids just like meat, so for a vegetarian meal simply replace the meat with more beans and rice.
Ingredients:
30 oz(s) pinto beans -- or red beans
1 lb(s) stew meat -- cut 1/2" pieces
2 tbsp flour
3/4 cup(s) brown rice -- cooked
2 tbsp cumin
2 garlic clove(s) -- crushed
1/2 cup(s) salsa -- green salsa
2 bunch spinach
3/4 cup(s) beef broth -- or any other kind
1 cup(s) shredded cheddar -- optional topping


Directions
Prep Work: Cut meat chunk and peel garlic cloves. Cut stems and wash spinach in strainer basket.

1. Chop meat into ½" pieces, toss with flour, and saute with frying oil in bottom of chili pot just until pink disappears; approx. 5 min. Salt and pepper them while cooking.

2. Add all ingredients to pot. Cover and simmer on low for at least 20 min. Flavors will blend as you simmer very gently.

3. Garnish with cheddar cheese.


"Legumes — a class of vegetables that includes beans, peas and lentils — are among the most versatile and nutritious foods available. Legumes are typically low in fat, contain no cholesterol, and are high in folate, potassium, iron and magnesium. They also contain beneficial fats and soluble and insoluble fiber. A good source of protein, legumes can be a healthy substitute for meat, which has more fat and cholesterol."

http://www.mayoclinic.com/health/legumes/NU00260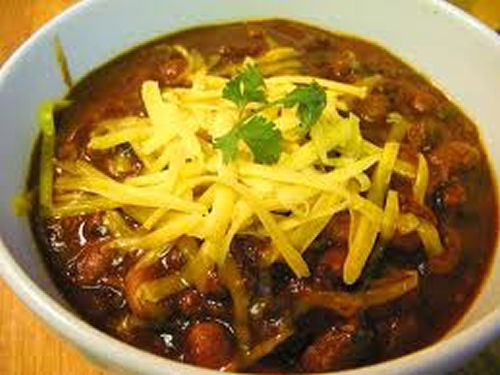 Comments:
I haven't tried any of the meals yet. However I would like to try increasing the yield for my once monthly cooking. Are any of the meals tested for bulk cooking. I do have a book I use and they do speak about the increase of acidict ing. are not increased at the same rate as other ing. Any suggestions. Thanks
By Theresa Edmonds on 2010 12 27
---
HI Theresa! We have disclaimer for increasing the yield on any baked items because yes, all ingredients should not be increased exactly when baking.
By molly on 2011 01 01
---
Add a Comment