On-the-Go Energy Balls
Time Required: 10 (25 min. total)
Finally! It has been a long search to find something that gives energy on the go, but is still healthy and tastes good. This even passed the test with teenagers, and that should tell you something. You can expect chewy, rich, "just sweet enough" taste packed in by whole grains, dried fruit, honey and nuts. Perfect, healthy antidote for that long meeting or the late afternoon energy slump. You'll find that the flavors combine and intensify if you can wait about 8 hours before eating them all.
Ingredients:
1/2 cup(s) cocoa powder
2 cup(s) oats
1/4 cup(s) pumpkin seeds -- raw, pepitas
1/2 cup(s) raisins
2 tbsp raw sunflower seeds
1 tsp cinnamon
1/2 cup(s) peanut butter -- or almond butter
2 tbsp molasses
1 tsp vanilla extract
5 tbsp honey -- 1/4 c. = 4 tbsp.


Directions
1. Pour cocoa into flat dish for rolling balls when done.

2. Mix together all other ingredients. The mixing bowl of a standing mixer works well.

3. Shape dough into 1" balls and roll between palms to smooth. Roll balls in cocoa powder.

VARIATIONS: Endless!

- To get more fiber and plant based omega 3, substitute mixture of ground flax, and oats for cocoa.

- Replace vanilla with 1 Tbsp. rum.

Be sure to leave comments on this page if you changed anything and it worked well for you so we can try it too.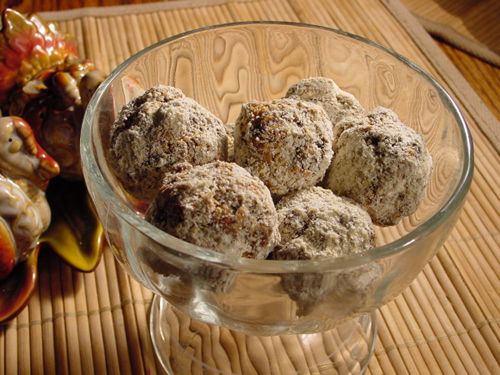 Comments:
These are pretty good, especially if you can wait until they have sat for about 8 hours; at that point they are really good.
By Jomo on 2011 01 19
---
I have been making this weekly for my wrestler and I decided to press the mixture into a container and cut them, It makes is so much easier and they seem to stay together just fine.
By pandyjohnson on 2011 02 22
---
Molly, I love these On-the-Go Energy Balls, thank you for the recipe . . . they are wonderful . . . I'm hooked!
By Gini Webb on 2011 06 22
---
I'm so glad! I had a few in my purse and they helped me when I was falling asleep yesterday while driving!! I'm going to start experimenting with more molasses instead of honey for more iron!
By molly on 2011 06 23
---
Add a Comment