Pumpkinseed Cranberry Granola
Time Required: 15 (40 min. total)
For breakfast or a healthy snack, nothing compares to crunchy granola over creamy yogurt along with the sweetness of fruit. At this time of year it could also be a very sweet and thoughtful home made gift for a teacher, neighbor, or coworker when placed in an airtight jar with a ribbon around the neck.
Ingredients:
1/2 cup(s) pumpkin seeds -- unsalted, called pepitas
1/4 cup(s) honey -- or maple syrup
2 tbsp sucanat -- or brown sugar
1 tbsp cinnamon
2 tsp vanilla extract
1/4 tsp salt
2 cup(s) rolled oats
2/3 cup(s) dried cranberries -- or dried blueberries


Directions
1. Preheat oven to 325 degrees.

2. Spread pumpkin seeds on a rimmed baking sheet and bake for 5 minutes at 325 degrees.

3. In a medium bowl combine honey with all other ingredients except cranberries.

4. Add pumpkinseeds to mix and spread all on rimmed baking sheet. (Placing parchment paper down first is optional.)

5. Bake for 25 min.or until lightly browned, stirring after 10 minutes.

6. Place baking sheet on a wire rack to cool. Mix in cranberries and then place granola in an airtight container.

SERVING SUGGESTION: Place plain, whole yogurt or Greek style yogurt in a bowl. Drizzle just a little honey over it, and top with granola and fresh fruit. Seasonal berries are fantastic, but any favorite cut up fruit will do. With a side of whole wheat toast or an egg on toast, this should satisfy even a hearty appetite.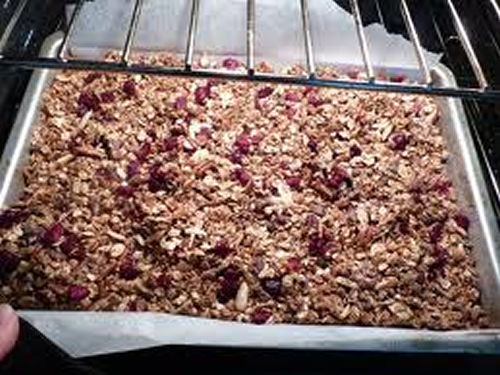 Comments:
This looks yummy, gonna try 'em. Thanks!
By Leslie Savidge on 2011 12 19
---
Add a Comment