Raspberry Scones
Time Required: 10 (30 min. total)
You can use either spelt or whole wheat pastry flour for these delightful scones. I used frozen raspberries once and frozen blackberries another time, but fresh berries would be wonderful if you can get them. The best part of all is that you can enjoy the wonderful taste and texture of a scone and bless your heart at the same time with a dose of olive oil. Try to find virgin olive oil as opposed to "ultra" virgin olive oil because it will have a more mellow taste.
Ingredients:
2 cup(s) spelt flour
1 tbsp baking powder
1/2 tsp salt
1/3 cup(s) olive oil -- or coconut oil*
1/3 cup(s) honey
1 tbsp vanilla extract
1/4 cup(s) hot water
1 cup(s) raspberries -- fresh or frozen
1 tbsp butter
1 tbsp raw sugar


Directions
1. Preheat oven to 350 degrees. Mix flour, baking powder and salt in mixing bowl.

2. Add oil, honey and vanilla to bowl and mix until combined. Will be dry and somewhat crumbly.

3. Add hot water and mix to combine. Fold in raspberries with a spatula or large spoon.

4. Scoop out 1/3 c. of batter and place on baking sheet 1" apart. Melt 1 Tbsp. of butter and drizzle a little over top of each scone and spread with finger lightly. Sprinkle with sugar.

5. Bake approx. 18 min. Scones should be golden brown and firm to the touch. Let cool before removing from baking sheet, then store in airtight container.

(adapted from naturalhealingmag.com "Raspberry Scones" March 2010)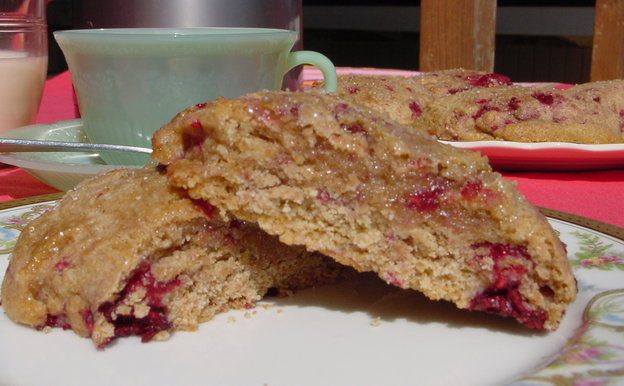 Comments:
The rasberry scones were a hit!
By pandyjohnson on 2011 03 13
---
I'm glad you liked them Pandy! I ate two for lunch the day I made them,but I was happy with all the ingredients I was eating, especially no refined sugar!
By molly on 2011 03 16
---
Add a Comment