Spontaneous Black Bean Burritos
Time Required: 15 (30 min. total)
This recipe uses any leftover protein source and comes with a challenge…be creative and flexible! I usually include some cooked chicken to please my carnivores. Black beans that you buy or cook yourself are the base, but after some great seasoning additions you're free to explore the options. Read through the directions and make changes to your shopping list based on what you already have to substitute with. I make extras for lunches the next day and they love it. Be sure to watch the video!
Ingredients:
32 oz(s) black beans -- 2 c. dry, or 4 c. cooked
2 tsp chili powder
2 tbsp nutritional yeast -- optional
1/2 tsp garlic powder
3/4 tsp salt
6 -- large flour tortillas
1 1/2 cup(s) cheddar cheese -- shredded
1 cup(s) salsa
1 cup(s) corn
1/2 cup(s) sour cream
5 cup(s) red lettuce -- torn or cut into small pieces
1-2 tbsp olive oil


Directions
Prep Work: Soak 16 oz. dry beans and cook in your crock pot if not using canned. Shred cheese. Cut any vegetables to be used. Shred lettuce.

1. Mash hot, drained beans with potato masher or large fork, or with a food processor. Use the stove to heat them if not using crock pot beans.

2. Add chili powder, nutritional yeast, garlic powder and salt. Stir all together, adding olive oil to loosen up the beans as needed.

3. Heat tortillas one at a time in a dry frying pan just until they are flexible enough to roll without breaking; approx. 1-2 min. each. Take off pan and roll loosely, then set aside while heating others. Layer ingredients in center of tortilla in the following order:

PROTEIN: Spread just under 1/2 c. of beans in center of tortilla, 2" by 6" shape. Add leftover cubed or shredded meat here- chicken, roast, steak, fish , etc.

CHEESE: Sprinkle 1/4 c. cheddar cheese- or any other hard cheese, cottage cheese, crumbled cheese, or combination of a few different kinds.

VEGETABLES AND SPICE: Spoon salsa and corn over top- or pesto, soft leftover cooked vegetables like broccoli, bell peppers and onions, kale, cauliflower, Chinese take- out vegetables, etc.

CREAM: dallop sour cream- or plain yogurt.

GREENS: 3/4 c. red lettuce- or romaine, spinach, cooked kale or collard greens, baby spring mix, arugula, etc.

4. Fold in edges on short side of rectangle, then one long side over the food, then roll burrito forward 180 degrees. It will large be so slice diagonally across the middle.

"A cup of black beans will provide you with 15.2 grams of protein (that's 30.5% of the daily value for protein), plus 74.8% of the daily value for fiber. All this for a cost of only 227 calories with virtually no fat." http://www.whfoods.com

OTL 2010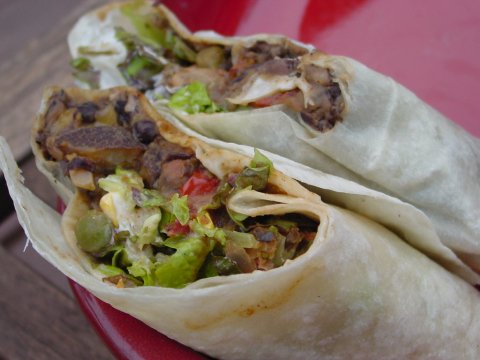 Comments:
Made these refrigerator black bean burritos last night, they were excellent. My husband told me they were good and eats a lot of burritos.
By pandyjohnson on 2010 11 03
---
Add a Comment