Salmon, Greens and Avocado Salad
Time Required: 20 (20 min. total)
What a welcome relief from all of the high fat foods we love to celebrate with! By eating it you will be loading up on fiber, heart healthy oils, fabulous anti-inflammation antioxidants and too many vitamins and minerals to list. If you've never used watercress or arugula, they have a sharper radish-like taste than other lettuces, and you can replace them with baby spinach if you want to. To save money, Walmart sells cans of wild caught salmon for a decent price, and to save time, buy preservative free, bottled dressing, and then watch the video for easier prep.
Ingredients:
1 cucumber -- diced small
2 stalks celery -- diced small
1 bunch watercress -- chopped; or arugula
6 cup(s) romaine lettuce -- coarsley chopped
2 whole carrots -- scrubbed and shaved 1" pieces
1/2 cup(s) shelled sunflower seeds -- raw or roasted
2 cup(s) canned salmon -- "wild caught"
1 1/2 avocado(es) -- chopped
1/2 cup(s) olive oil
2 tbsp white wine vinegar
1 tsp Dijon mustard
1 tbsp honey


Directions
Prep Work: Chop cucumber and celery into 1/2" cubes. Wash and cut greens. Roast sunflower seeds. Mix salmon with bones and skin using a fork or standing mixer.

1. Heat raw sunflower seeds in a dry skillet on medium heat. Shake every 15 seconds or so until they look lightly browned; approx. 3 min.

2. Toss all ingredients through sunflower seeds in salad bowl; then toss with dressing. (recipe below)

3. Put salmon in mixing bowl, and if it has skin and bones mix all together with mixer or a fork. Top salad with chopped avocado and salmon.

Simple Salad Dressing: Whisk together last four ingredients on list above: olive oil, white wine vinegar, dijon mustard, and honey.

TIME SAVER: Use a good quality vinaigrette dressing instead of making your own. Watch the prep VIDEO.

VARIATION: Replace sunflower sees with roasted almond slivers and add segments of tiny, peeled oranges.

OTL 2010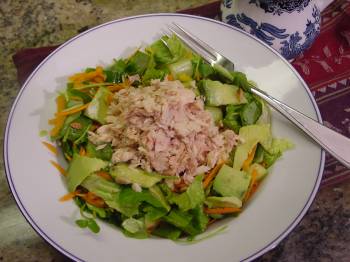 Comments:
this was an excellent salad!!!
By pandyjohnson on 2011 09 23
---
Thanks Pandy. You are eating really healthy if you're making this one! Its almost time to say good bye to big dinner salads ...but not yet!
By molly on 2011 09 24
---
Add a Comment