Super Kale and Greens Salad
Time Required: 30 (30 min. total)
This delicious salad can be enjoyed with just the nuts, or with the addition of some chopped meat or shredded chicken. We've put the chicken in the shopping list, so if you decide to use something else like leftover beef, be sure to cross it off. If making as a side salad it will serve 6 rather than 4. The dark green, uncooked kale along with fresh carrot and turnip is just bursting with nutrients. You will walk away with a satisfied appetite and the confidence that you just did something really good for yourself!
Ingredients:
1 bunch kale -- curly or flat leaf; off spine & cut very thin
1 tbsp olive oil
2 tsp apple cider vinegar
1/2 tsp salt
1 cup(s) whole pecans
2 tbsp maple syrup -- or honey
2 tbsp olive oil
6 cup(s) salad greens
2 green onion -- diced
1 cup(s) turnip(s) -- peeled and grated
3 -- carrots -- grated
bottled vinaigrette -- preservative free
1 rotisserie chicken -- meat cut from bones


Directions
Prep Work: Cut kale for salad. Bake pecans in syrup mixture. (step #2) Shred carrots and turnip. Take chicken meat off bones.

1. Place thin strips of kale in bowl and sprinkle with oil, vinegar and salt. With clean hands carefully "massage" kale for a few minutes and then set aside while preparing the rest of the salad. Ideally the leaves will be tender in 30 min.

2. Preheat oven to 375 degrees. Line a baking pan with parchment paper or grease bottom with oil. Mix pecans, syrup, olive oil, and a dash of salt and pepper in a small bowl. Spread on prepared sheet and bake for 10 min., stirring often so all sides of pecans are browned but not burned.

3. Combine salad greens, kale, green onion, turnip, carrots and pecans in salad bowl and toss with vinaigrette. Top with meat.

TIME SAVER: Double the pecans and use in another salad this week, or replace them altogether with a dry roasted nut of your choice.


(inspired by vegetariantimes.com "Raw Kale Salad")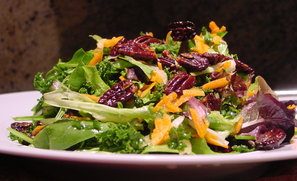 Comments:
This salad was awesome! It tasted great and had a very pleasant aroma.
By Sabrina on 2011 04 09
---
I'm glad you liked it! I've been adding marinated kale to my salads now…just mixing it in with the other lettuce. I'm thrilled to be getting that extra benefit from fresh kale!
By molly on 2011 04 16
---
Add a Comment