Sweet N Sour Salmon w/ Grapefruit Slaw
Time Required: 20 (30 min. total)
Fatty fish like salmon and sardines are high omega 3 fatty acids as well as Vitamin D. Salmon can be one of the most expensive sources of protein that you eat, but remember that the expense is balanced by frugal vegetarian meals on the Orange Tree Menus…and we desperately need the omegas it provides! If your eaters aren't crazy about grapefruit, either add a little more sweetener in the cole slaw or use mandarin oranges instead.
Ingredients:
1 tsp sesame oil
1 tsp wasabi paste -- or to taste, or prepared horseradish
2 tbsp lemon juice
3 tbsp honey -- DIVIDED
4 cup(s) shredded cabbage -- 4 c. = 1 bag
1 -- red grapefruit -- peeled and diced
1 1/2 lb(s) salmon -- cut into fillets
2 tsp soy sauce
1 tsp Dijon mustard
1 tsp hot sauce
1 tsp lemon zest


Directions
1. Set out one small bowl for mixing salmon marinade and a medium bowl to mix the cabbage salad. Preheat broiler to 400 degrees.

2. In medium bowl mix sesame oil, wasabi paste, lemon juice, 1/3 of the honey. Add cabbage and grapefruit; then toss until combined. Cover and set in refrigerator to marinate.

3. Grease a baking sheet or broiler pan and place salmon fillets on it skin side down.

4. In small bowl combine the soy sauce, mustard, hot sauce, the rest of the honey and lemon zest. Spread evenly over tops of salmon fillets.

5. Broil salmon at least 4" away from broiler, 5-8 min. for 1/2-3/4" cuts, and 8-12 min. for 1-1 1/2" cuts. Done when it flakes easily with a fork and color is uniformly opaque. Watch carefully, especially towards the end, and do not over-cook as it will be very dry.

6. To serve remove skin from bottom of fish with the spatula or a knife. They can be topped with chopped cilantro or parsley and lemon or lime wedges.

OUTDOOR GRILL: Place salmon on pieces of heavy duty aluminum foil. Grill covered for approx. 7 min. over medium heat.


"What conditions or symptoms indicate a need for more high-omega-3 foods?

Depression
Cardiovascular Disease
Type 2 Diabetes
Fatigue
Dry, itchy skin
Brittle hair and nails
Inability to concentrate
Joint pain
Salmon, flax seeds and walnuts are excellent food sources of omega-3 fatty acids." http://www.whfoods.com/genpage.php?tname=nutrient&dbid=84


(adapted from Weight Watcher's Magazine July 2011 and blog.fatfreevegan.com "Spicy Grapefruit Coleslaw)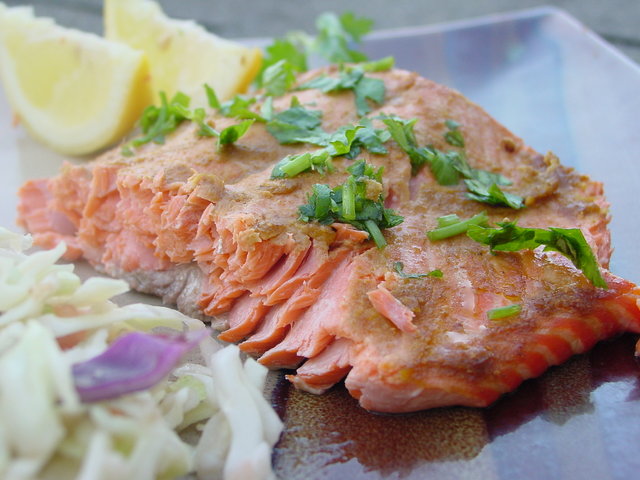 Comments:
Oh my gosh, we loved this! I often over cook salmon, but I took extra care this time and it was delicious! Thank you!
By Jomo on 2012 06 06
---
I'm so glad you liked it Sabrina!
By molly on 2012 07 24
---
Add a Comment