Tiny Turkey Loaves
Time Required: 20 (50 min. total)
Even if there less than 6 eaters, make the entire recipe and eat the extras for lunch or dinner another night. The hidden ingredients mushrooms and flax meal provide anti-inflammatory power, omega-3 fatty acids and fiber. Get even more nutrients and flavor by adding nutritional yeast and parsley too.* Throw in some carrots and /or potatoes to round out the meal and make good use of the oven heat. Remember to add them to your list if they aren't staples for you.* (See below.)
Ingredients:
1 cup(s) onion -- chopped 1/4" chunks
1 cup(s) chopped mushrooms
1 cup(s) dry breadcrumbs
4 tbsp Worcestershire sauce
2 tsp oregano
1 tsp salt
3/4 tsp pepper
1/2 cup(s) ketchup -- *HFCS free
3 tbsp flax seed -- ground to meal
2 egg(s)
32 oz(s) ground turkey


Directions
Prep Work: Chop onion and mushrooms fine. Grind flax seed in coffee grinder.

1. Preheat oven to 350 degrees. Heat oil in small skillet to medium heat and saute onions 3 min.; then add mushrooms for 2 more min.

2. Combine all other ingredients in mixing bowl and add onions and mushrooms when finished cooking.

3. Grease 12 cup muffin tin and fill each cup with meat mixture. For an optional topping, combine 3 Tbsp. ketchup (for yield of 6) and 1 tsp. hot sauce; brush on top of loaves.

4. Bake for 30 min. Internal temperature on meat thermometer should read 165 degrees when finished.

CARROTS/ POTATOES: Scrub 1-2 carrots per person, toss with olive oil, salt and pepper, and place in baking pan or sheet in oven along with turkey loaves. Should be done at the same time as loaves. For hearty appetites, scrub a few baked potatoes as well, pierce with knife in 3 places, rub butter on skin, sprinkle with salt and wrap in tin foil. Place them in oven at the very beginning when preheating and keep them in approx. 15 minutes longer than the loaves until easy to pierce with fork. Remove from foil, cut in half lengthwise and smash slightly with a fork. Top with butter, salt, pepper, sour cream, green onion or shredded cheese according to taste.

BROCCOLI SLAW SALAD: Add Broccoli or Cabbage Slaw to your menu if desired.
*HFCS High Fructose Corn Syrup

*ADD NUTRIENTS- 1/4 c. nutritional yeast for extra "building block" amino acids, and/or 1/4. c. chopped parsley for a megadose of vitamin K for your bones

(inspired by "Turkey Mini Loaves", Cookinglight.com)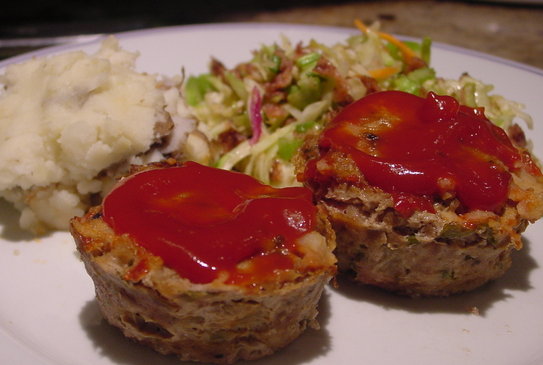 Comments:
Loved these!! They were a hit for the whole family! I can never get meatloaf to cook all the way through and these turned out perfectly!

By Karla on 2011 03 07
---
Add a Comment