Vegetable Lasagna
Time Required: 25 (65 total)
Most of us cringe at the thought of lasagna because those noodles are just one too many steps to take. Solution: Assemble the lasagna one day before and noodles will soften in the refrigerator. Too organized? Then use no- bake noodles. Or like me, overcome your fear and boil them earlier in the day so that prep time goes faster. This is one time when doing the prep work ahead of time will really help because the baking time is 40 minutes and having the vegetables already cut will make all the difference.
Ingredients:
1 cup(s) carrots -- sliced thin
1 1/2 cup(s) zucchini(s) -- sliced thin
1 red bell pepper -- sliced thin and 1" long
2 cup(s) spinach -- sliced thin and 1/2" long
1 cup(s) cottage cheese
1/2 cup(s) ricotta cheese -- freeze leftovers in ziplock
2 egg(s)
2 tbsp fresh basil
2 tsp oregano
24 oz(s) spaghetti sauce -- organic is best
9 lasagna noodles -- See intro.
1 cup(s) mozzarella cheese -- shredded; optional


Directions
Prep Work: Cook noodles if needed. Chop carrots. Chop zucchini. Chop pepper and spinach; store together. Mix cheeses, eggs, basil and oregano together.

1. Preheat oven to 350 degrees.

2. FIll a steamer pot with 2" water and bring to boil. Place carrots in basket for 2 min. Add zucchini for 2 more min. Add peppers and spinach for 3 more min.

3. While vegetables steam, combine cheeses, eggs, basil and oregano along with 1 tsp. each salt and pepper.

4. To assemble the lasagna, put 1/4 c. of spaghetti sauce in bottom of 13x9 pan. Lay down three noodles slightly overlapping edges.

5. Spread half of vegetables, half of cheese mixture, and half of remaining spaghetti sauce over noodles.

6. Lay down three more noodles and repeat layering with remaining vegetables, cheeses, and and all but 1/2 c. spaghetti sauce.

7. Top with three last noodles and remaining spaghetti sauce. Sprinkle parmesan or mozzarella cheese if desired.

8. Bake 40 minutes; should be bubbly. Let rest for 10 minutes before cutting.

MEAL EXTENDER: This is an easy recipe to double and freeze the extras for another night. Simply assemble another lasagna in a baking dish with tight fitting lid. Cover with cellophane, then the lid, and freeze. Defrost for 24 hrs. in refrigerator and cook according to directions. Another way is to place heavy-weight foil in the bottom of the baking pan overlapping on both sides. Assemble dish, cook according to directions until almost finished, cool, wrap foil around food and freeze. When frozen solid, lift entree out of pan and make sure foil is tightly sealed around it. (The important part is to not let any air in or moisture out.) You could also put it in a large plastic bag and close with a twist tie or freezer tape. When time to serve, return to original pan, defrost in refrigerator for 24 hours, open foil and bake for designated time plus approx. 15 min. more. Check by inserting knife in middle.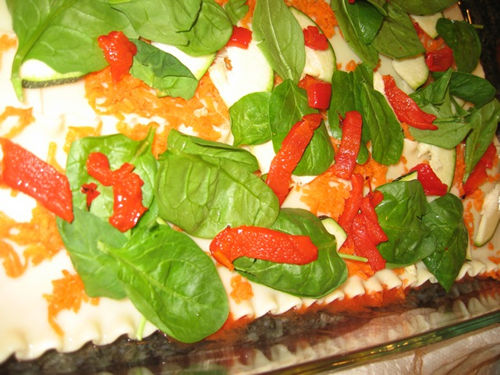 Comments:
The Vegetable Lasagne is delicious! This recipe is perfectly seasoned! I have tried a few different veggie lasagne recipes that turned out very bland. I happened to have organic roasted red peppers, so I used those. I boiled the noodles in the morning, drained them and neatly placed them in a 13x9 pan just barely covered in water. The noodles stayed moist and were ready for assembly in the afternoon! They were just the right texture and did not get too mushy. Great job balancing the seasoningsand flavorful veggies in this dish!
By Judy Cook on 2010 10 05
By molly on 2010 10 06
---
Add a Comment